December 9th - 11th
On the Main Stage in Robert Montgomery Auditorium
BCTjr Presents "A Christmas Peter Pan"
Adapted by Kathryn Schultz Miller
Directed by Rana Theresa Tan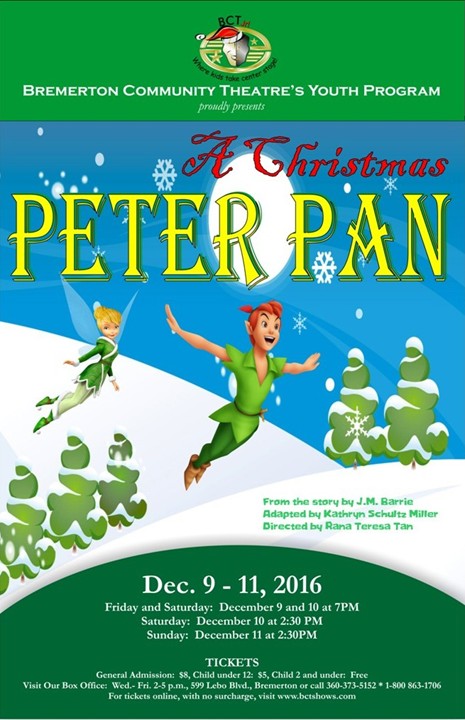 It's Christmas Eve and Tinker Bell summons Wendy, Michael and John to help her save Peter Pan and Santa Claus from the terrible pirates of Captain Hook! Santa Claus has been frozen in the North Pole and can't deliver the presents on Christmas! Out on the frozen tundra, Santa's elves search for their lost toys. The audience and the children help Peter Pan escape Captain Hook's clutches, and suddenly we're off on A Christmas Peter Pan Adventure, with music set to your favorite Christmas carols.
Auditions for this wonderful holiday play featuring children ages 6-18 will be held November 6th and 7th from 6:30-9PM at Bremerton Community Theatre. You do not have to prepare a monologue or song, and you do not need to attend both days to be considered for a part. Performances are December 9th and 10th at 7PM, and December 10th and 11th at 2:30PM. Tickets are only $8 for adults, $5 for children age 12 and under, and children age 2 and under get in free. As always, complimentary refreshments courtesy of our cast and families will be served after each performance. We also have wonderful raffle prizes available, and raffle tickets are only $1.00 each. Please note that our BCTjr holiday shows often sell out, so get your tickets early. Tickets for the show can be purchased online at www.bctshows.com, or by calling our box office at (360) 373-5152. Happy Holidays!