September 16th - October 2nd, 2016
In the Robert Montgomery Auditorium
The Nerd
Directed by David Siskin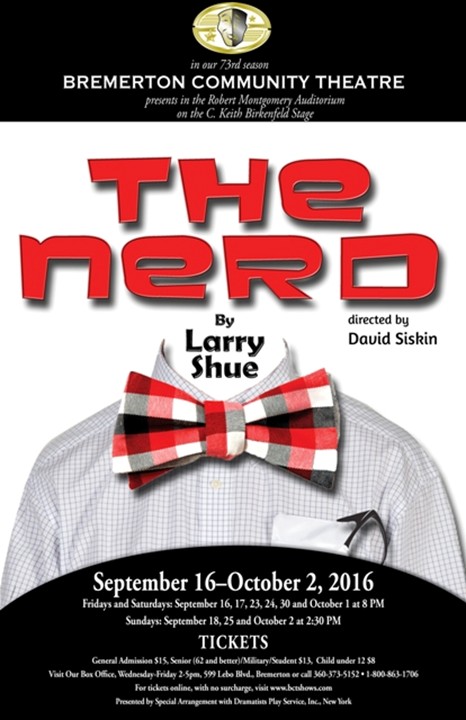 Purchase or Reserve Tickets Online HERE
Check out our



Next up in the
Robert Montgomery Auditorium


Waiting in the Wings


November 4th - 20th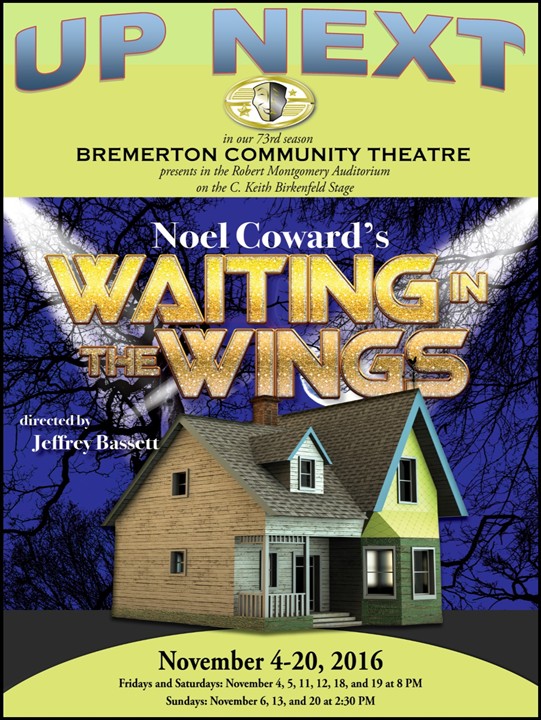 Bremerton Community Theatre
2016-2017 Season Memberships
are now available online HERE
The latest edition of
Sign up to accept BCT Emails HERE After you log on, check the eCallboard list
We have Gift Certificates
available for Purchase online
You can select a show and
purchase tickets directly
from the calendar
Donations are always welcome
BCT Online Calendar
To view the Season Flyer click HERE.

Season Passes (or Flex Pass) may be purchased online HERE,
or view and print a mail in order form HERE.
Please visit our TICKETS page for more information.
2017-2018 Season Play Submittals are now being accepted.
Please download the Play Selection Information Packet for your requests. Printed packets are also available at the theatre Boxoffice. You can email a scanned copy of the Submittal Forms to Donna Mozingo at dmozingo@gsblaw.com, or deliver to the theatre Boxoffice. All submissions must be in no later than Monday, October 17th.
Click HERE for a short BCT history slideshow.
Our Theatre's roof is over 40 years old and it leaks in
multiple places. A new roof will cost nearly $100,000.
Please help preserve this wonderful institution with your
contributions. Visit our Donations page for more information.