September 1st - 24th, 2017
In the Robert Montgomery Auditorium
"The Mousetrap"
Directed by Jeffrey Bassett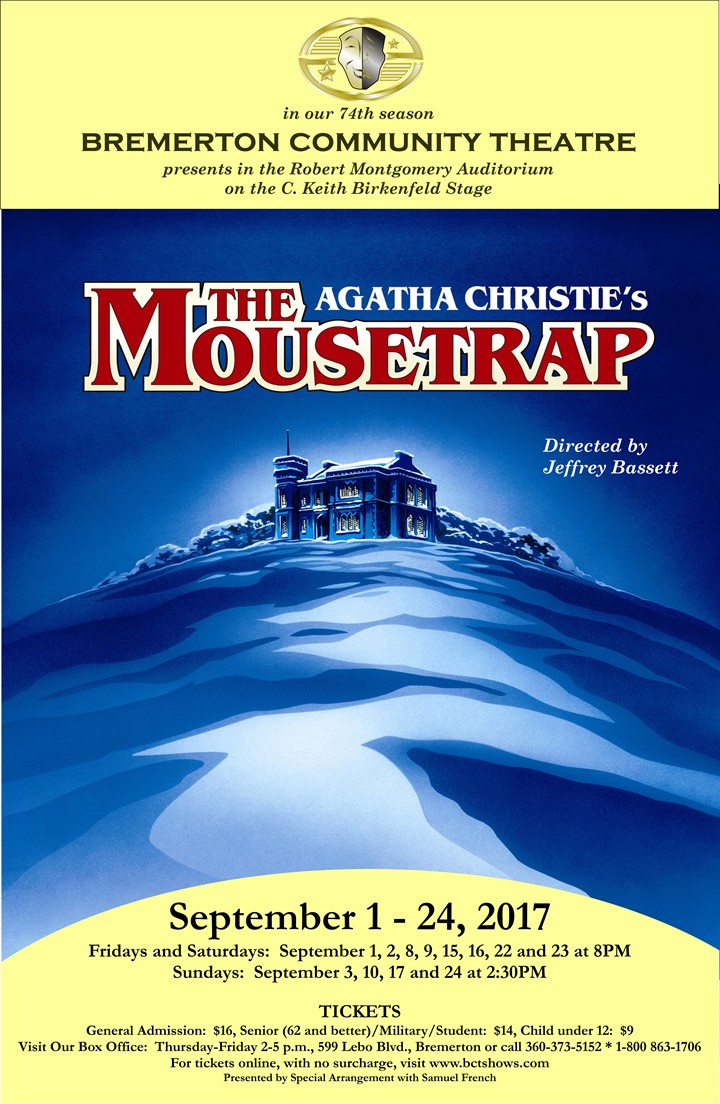 Purchase or Reserve Tickets online HERE
Check out our



Next up in the
Robert Montgomery Auditorium


"Peter and the Starcatcher"


October 27th - November 19th


Bremerton Community Theatre
2017-2018 Season Memberships
are now available online HERE
The latest edition of
Sign up to accept BCT Emails HERE After you log on, check the eCallboard list
We have Gift Certificates
available for Purchase online
You can select a show and
purchase tickets directly
from the calendar
Donations are always welcome

Auditions for the

Pinter Plays

are October 1st & 2nd, 6:30-9:00pm
Auditions for

BCTjr "Alice in Christmas Land"

are
November 5th & 6th, 6:30-9:00pm
Special Event


Afternoon Tea
html embed video by VideoLightBox.com v3.1
Our Theatre's roof is over 40 years old and it leaks in
multiple places. A new roof will cost nearly $100,000.
Please help preserve this wonderful institution with your
contributions. Visit our Donations page for more information.
Saturday, September 23rd, 3:00-4:30pm
Click on the poster below for more information.
Tickets may be purchased online HERE.